TypeRacer News
Hello Typists! We have come a long way with TypeRacer since our last update and still going strong. We've been listening and hearing your feedback all this time. We take all feedback into consideration when working on the site. Here are the most notable changes since. We will continue to develop TypeRacer, making it the greatest multiplayer typing site.

🎨 New facelift + Dark Mode (finally)
We've given TypeRacer a huge facelift as of last year and we're still adjusting it as we go. One of many of our biggest achievements to finally modernize TypeRacer and include a native Dark mode.

Dark mode was the most requested feature with TypeRacer and we can proudly say that it is available to everyone. You can continue to play on TypeRacer while saving your eyes. You're welcome.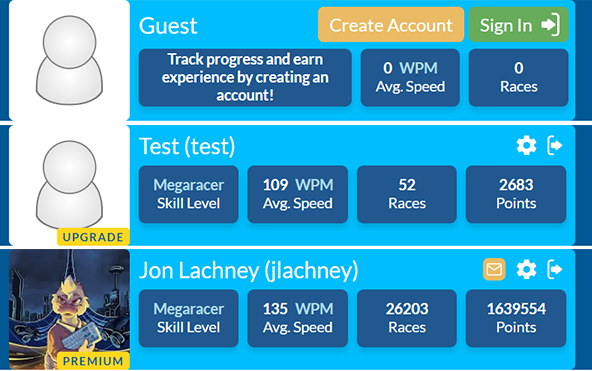 New Userbar Information
Our most recent addition as of August 2021, we gave the userbar information (the info panel on the top-right) a facelift that gives this a more clean look than it once was to display your stats and information neatly.





🌌 Official Public Universes – Different TypeRacer Gamemodes and Themes!
With the introduction of the new theme, we've included a "Featured Universes" section on our site that highlights the most interesting and unique universes that you can play on. "Universes" are sub-sections of TypeRacer with separated leaderboards, stats, theme, and texts.
One of the most popular Universes on TypeRacer is the "Dictionary" gamemode, which includes randomized words from the English dictionary to type from. We also have different themes of content to type from on universes, such as the "Anime" universe where you can type quotes from your favorite anime and manga series such as Tokyo Ghoul to Attack on Titan.
🏁 New Private Racetrack Upgrades – Up to 200 players maximum and chat commands!
Private Racetracks have been upgraded to support up to 200 players at once in a race to allow for some interesting games, especially to have fun with larger groups and streamers to play with the audiences.
Commands
Certain chat messages prefixed with a double slash are now interpreted as commands that can be executed by the racetrack's creator. The following commands allow viewing or modifying the current racetrack's settings and adding or removing bots.
Configuration commands:
The //set <property> <new value> command can be used to view or change the value of a configurable racetrack setting. Without a <new value>, it simply prints the current value of the given <property>.
The following settings are configurable with this command:
//set maxPlayers <2-300?>
Sets the maximum players allowed in the current racetrack (which includes both racers and spectators).
//set maxPlayersPerGame <2-300?>
Sets the maximum players allowed to join in a race.
//set newGameDelaySeconds <10-600?>
Sets how long to keep displaying an ended race in the UI before starting a new one (specified in seconds).
Bot commands:
//addbot <wpm1> <wpm2> <wpm3>
Adds one or more bots. Can specify multiple speeds, each speed adds a bot.
//addbots <number> <avgWpm?>
Adds number of bots with the given average speed. The speed parameter is optional; if omitted, it defaults to the average speed for the track creator's skill level.
//removebots
Removes all bots.
Other commands:
//help
Prints info about how to use the most common commands. For now, only the //set commands are documented there.
More to Come
TypeRacer is always expanding and innovating! Do you have ideas or feedback for TypeRacer? Please feel free to come chat in our official Discord server @ https://discord.gg/typeracer or feel free to send us an email support[at]typeracer.com.
Have a great rest of the year, cheers to all. See you on the track. – Jon Lachney (jlachney)
Read Full Post
|
Make a Comment
(
None so far
)
« Previous Entries